Delivery isn't the only way to get your online shopping.

When you use Click & Collect, there's no need to wait at home all day and no need to spend on delivery costs.
Just pick up your package at your nearest The SM Store— all free and super convenient. When you choose Click & Collect during online check out, we'll ready your package at the store you request.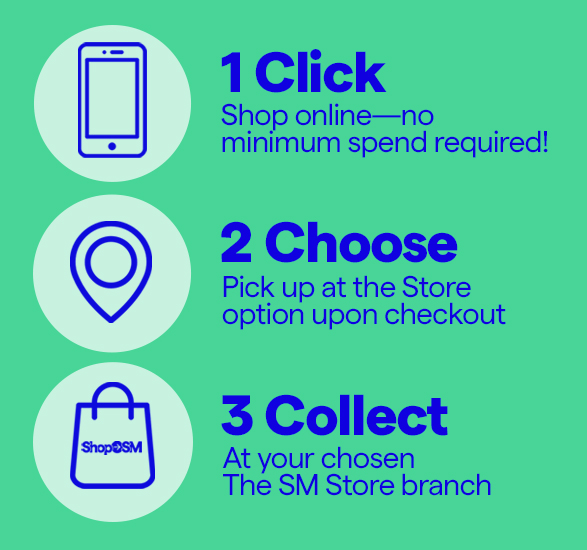 New to Click & Collect? Here's how it works:
• Shop with us at shop.sm.com .
• When you check out, select "Pick Up at the Store". Choose The SM Store branch closest to you. (Click & Collect is free, and there's no minimum spend required.)
• Wait to be notified via SMS once your package is ready for pick up. We'll aim to get it ready within 24 hours.
• Go to your chosen The SM Store whenever convenient. (We're usually open until 9pm, so you can come by after work. Call our hotline 811-0000 if you have any questions about your package!
• Head to the dedicated Click & Collect counter and present your SMS notification.
When you can't get your mom to wait at home for your parcel of lipstick, Click & Collect might just be the best thing.
Get it when you want and get it fast. Just Click & Collect!
Try it now at shop.sm.com
Click & Collect is currently available at the following The SM Store branches in Metro Manila:
The SM Store Aura Premier
The SM Store BF Parañaque
The SM Store Cubao
The SM Store Fairview
The SM Store Makati
The SM Store Mall of Asia
The SM Store Manila
The SM Store Megamall
The SM Store Marikina
The SM Store North EDSA
The SM Store San Lazaro
The SM Store Southmall
The SM Store Valenzuela
Click and Collect Orders can also be picked up at the ff. provincial SM Stores at the customer service counter:
Luzon:
The SM Store Bacoor, Cavite
The SM Store Dasmarinas, Cavite
The SM Store Baguio, Benguet
The SM Store Legazpi, Albay
The SM Store Cabanatuan, Nueva Ecija
The SM Store Santa Rosa, Laguna
The SM Store Lipa, Batangas
The SM Store San Jose Del Monte, Bulacan
The SM Store Pampanga City
Visayas:
The SM Store Cebu City
The SM Store Bacolod, Negros Occidental
The SM Store Iloilo City
Mindanao:
The SM Store Davao City